April 2017


We will be at the Sydney Royal Easter Show tomorrow,

Saturday 8th April.


If you are going to the show, come and say hello to us in the dog pavilion.
We will be there from 8am till 5pm
November 2016
We are so proud of our gorgeous Kyra..She has gained her Neuter Championship and is now known as
Neuter Ch Aust Ch Zanzebern Femkyra.
Kyra is our first Neuter Champion..
On the way home from the show, Kyra loved her cheeseburger treat :)
March 2016

Well we now have our first home bred champion....
Indigo is now known as

Aust Ch Kyseair Bring It On

We are so proud of our gorgeous girl
November 2015
So sorry I have not updated this page in so long. We have been very busy this year. 

In April, we attended the Sydney Royal Easter Show with Braxton and Indigo. We had a great day catching up with friends and the dogs had a great time meeting all the public. We were all exhausted after the big day.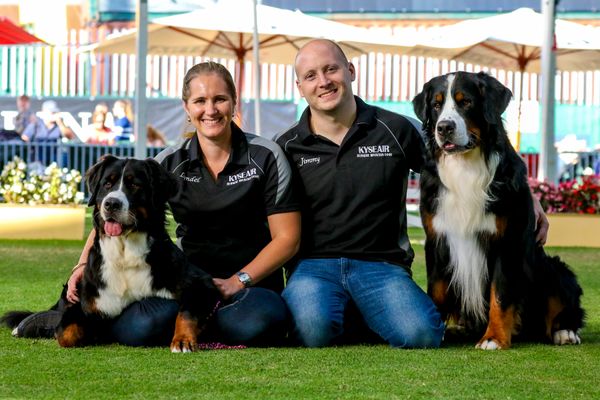 In June, we headed down to Melbourne to attend the Bernese Mountain Dog Specialty Show. We took all four dogs down for the trip. It was absolutely freezing but the dogs had a great day out. The highlight of the day was seeing our Mason participate in his first Veteran's Parade (for dogs over the age of 7). We really didn't think we would see this day due to Mason suffering a stroke last year. He loved all the attention and he had several people cheering for him while he was going around the ring. 
December 2014

We would like to wish everyone a very
MERRY CHRISTMAS
and a safe and 
HAPPY NEW YEAR